Brief & Approach
The brief was to come up with a concept for a paranormal app. Even though it's paranormal, the app has to be credible. This means that it should have a realistic purpose and the users can eventually use it without some hocus pocus.
I really loved this brief. Although I am not a firm believer of the paranormal and my knowledge is very limited, I am interested in it. This made it easier for me to come up with a concept.
Have seen some concepts of past year, I wanted to create something original. Not the weather prediction by cats or foods kinda thing. This is why I went to the library. I dug up some Norse Mythology books and decided, after hours of browsing that the nine worlds in Norse cosmology, together with Yggdrasil would be my main focus. I immediately connected this with meditating, and to give it an extra paranormal touch; I connected it further with astral projection (out of body experiences).
Next, I did some full on research about Yggdrasil and the 9 dimensions, astral projection, runes and astral projection methods. After my research, I already started to feel this mood in my head so I created a mood- and styleboard. The styleboard being heavy influenced by illustrator Marina Muun, see images below. After this, I wrote out my full concept with all of the wanted features, made some flowcharts and started sketching out some wireframes. Then, I was finally able to start with the design!

Concept
Meditating is big nowadays (see for example Headspace). Drasil is an app that helps people astral project (meditate) to other dimensions. Due to the multiple projection methods, you get a personalized plan that fit your needs. If one method doesn't fit, just choose another and off you go. The app is connected to the tree of life, Yggdrasil. Due to this connection you can travel to one of the accessible dimensions with your astral body. The app also comes with some quick meditating options for when you're stressed out and in a rush, so you can take a deep breath and conquer the world again.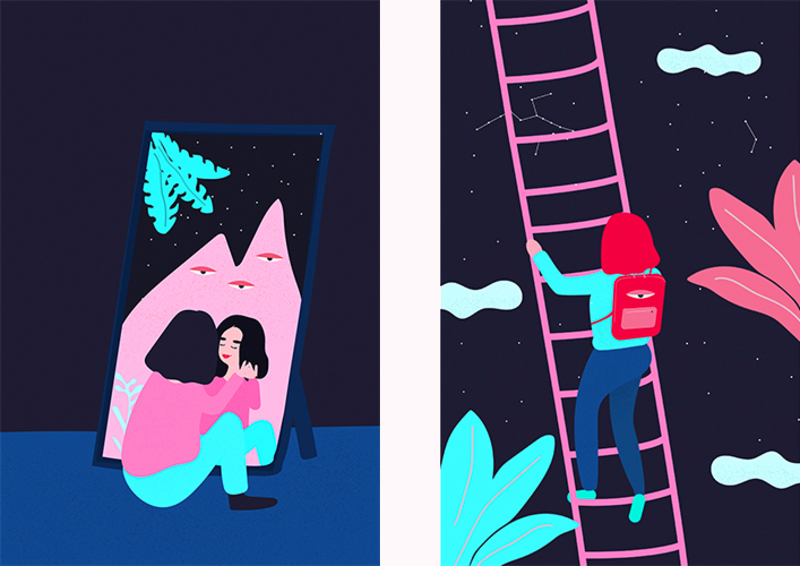 Screens
Out of some research I did, the iPad is currently both a lean-forward and lean-back experience. In this case, I will focus on the lean-back experience. It's important with meditation that people relax and take time for it. This is why I chose the iPad as main medium. You can see some screens right here; the technique screen, settings, worlds screen and worlds detail.
You can try-out the prototype of the app here
This project was featured on Behance and in the Devine Showreel of 2017!